@TreeWatchBoslnd
Bosland
Pijnven
Bosland is a nature area of 6517 ha in northern Limburg, Belgium. It stretches across the municipalities of Hechtel-Eksel, Pelt, Peer and Lommel and consists of forests, heathland, grassland and river valleys. The central forest area of Bosland is called Pijnven. This coniferous forest is planted in the late 19th - early 20th century to use the wood in the mining industry. These uniform, massive forest complexes, which replaced the heathland 100 years ago, are now being systematically transformed into more diverse forests. Bosland preserves and develops its quality nature, while making it accessible to the general public as much as possible. The Bosland project is a collaboration of four municipalities, the Agency for Nature and Forest, the Regional Landscape Lage Kempen and Visit Limburg. All science-related activities within Bosland are centralized in BosLAB.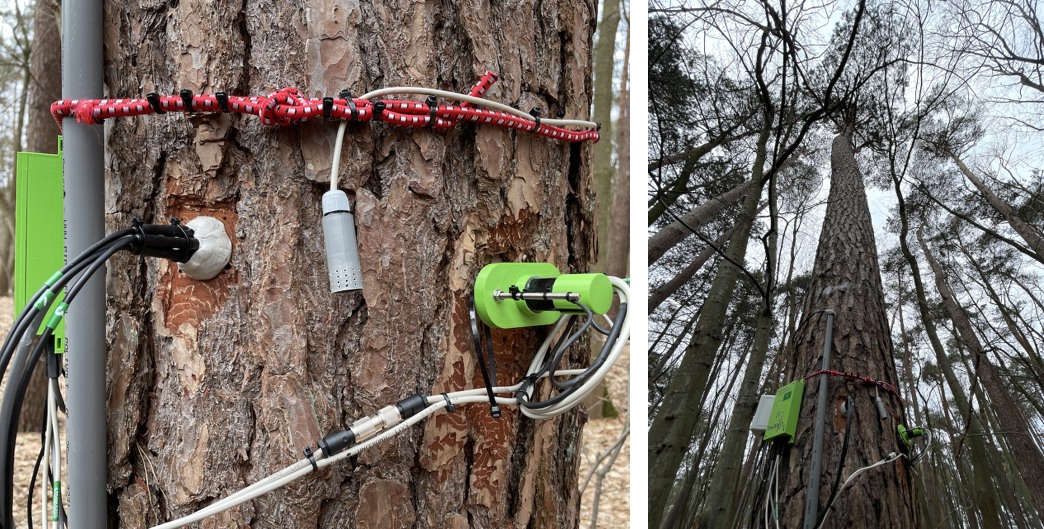 Since March 2023, a pine tree (Pinus sylvestris) is equipped with a sap flow sensor and point dendrometer. Air temperature and relative humidity are being monitored close to the stem. Besides the high tech TreeWatch sensors, a band dendrometer is installed in the context of the citizen science project CITREE.
Scots pine (
Pinus sylvestris

)

Scots pine is an evergreen coniferous tree which can grow up to 35 meters high. Its natural range is very wide and extends from the south of the Iberian Peninsula to Scandinavia, from the Atlantic to East Siberia. The bark is thick and flaky and changes from orange-red when young to gray-brown when mature. The 2.5 - 5 centimeters long needles are produced in fascicles of two.
Tree location
The tree is located in the forest area Pijnven, next to the forest museum. The satellite image below shows the exact location of the monitored tree.